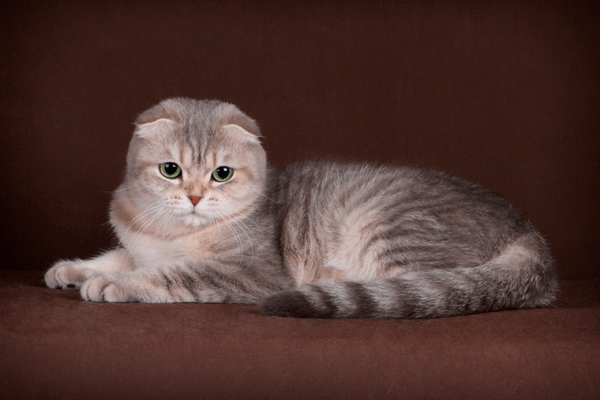 Like no other breed, the Scottish cat boasts a wide variety of exteriors of its representatives. In the modern version, there are four varieties of Scottish cats:
Scottish Fold (Scottish Fold Shorthair);

Scottish Straight (Scottish Straight Shorthair);

Highland Fold (Scottish Fold Longhair);

Highland Straight (Scottish Straight Longhair).
Scottish Folds and Scottish Straights have a thick, dense, short, not close-fitting, "plush" coat with a thick undercoat.
Highland Fold and Highland Straight have medium-length, very dense, dense coat with a fluffy undercoat.
The coat of Scottish cats does not need special care, does not fall into tangles, it is enough to comb it with a special brush to remove dead hairs several times a week – for Scottish long-hair, and once a week – for Scottish short-hair. In the spring and fall, Scottish cat shed their hair and brushing is best done more often.
The breed is recognized by almost all international felinological organizations (except FIFE), they have also developed numerous breed standards for it, in general, similar. There is also a generally recognized standard, which must be met by all animals of this breed.
According to all standards, this is an average-sized cat weighing from 2,5 kg (5,5 lb) to 6 kg (13,5 lb), female are more compact – from 2,5 kg (5,5 lb) to 4 kg (9 lb), male are more massive – from 4 kg (9 lb) to 6 kg (13,5 lb).
The physique is dense, strong, the chest is wide, the hips are the same width as the chest. The head is large, round, with pronounced jaws and cheeks. The muzzle is rounded, the eyes are large, set wide apart, round, the nose is wide and short. Scottish Fold and Highland Fold have small, rounded ears, folded forward and downward, pressed to the head. The smaller the ears and the tighter they are pressed, the more valuable the breed is considered. Scottish Straight and Highland Straight have ordinary ears, of the usual familiar appearance, but small in size and slightly rounded.
Legs are of medium length, in proportion to the body, legs are round, neat, compact. The tail is long, flexible, wide at the base, tapering towards the tip. A short, thick, dense and sedentary tail may indicate the presence of a genetic disease in the animal associated with the main characteristic of the breed – lop-eared ness (fold), therefore, it is an undesirable trait, and in some systems is a reason for disqualification.
Scottish Straights and Highland Straights – straight-eared of the Scottish breed – lack the gene responsible for lop-eared ness (fold), so they do not suffer from hereditary genetic diseases of the musculoskeletal system.