World
Wide Shipping
Foldlandia Cattery has been organizing the shipping of kittens to any country in the world since 2015.
Graduates of our cattery found their families on all continents of the world.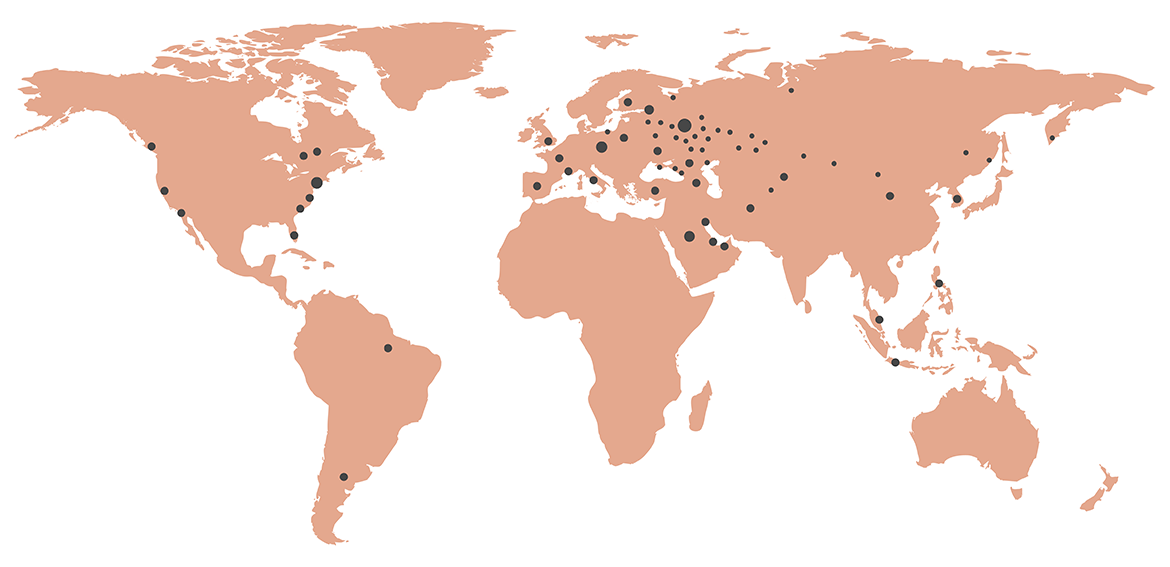 About Shipping
Our cattery shipping British and Scottish kittens in all directions,
to any distance, by any possible means of transport since 2015.
Full Package of Documents
All our kittens in our cattery are provided with an absolutely complete package of necessary documents (pedigree, contract, veterinary passport and permit).
Veterinary Care
All our Scottish and British cats and their kittens are under the constant professional supervision of a veterinarian.
Comfortable
Shipping
We select the best routes and methods of transporting Scottish and British kittens in order to minimize the time of shipping of the animal.



When you purchase two or more kittens in our cattery, we will shipping them together.
Joint shipping of several kittens is cheaper than shipping each separately.
Shipping calculation
Based on your location, we calculate the actual cost of shipping and agree with you its cost
You pay
A reserve of 50% or 100% of the cost of the kitten
(the full cost is paid

until the moment

the kitten is sent)
Date Coordination
We agree with you on the exact and convenient shipping
date for you, after which we book a trip for the kitten
Kitten meeting
You meet your kitten
Foldlandia Cattery is located in the city of Saratov. You can personally visit our cattery and choose your future Scottish or British kitten. If this is not possible, and you live in another city in Russia or in another country, we will arrange the delivery of your kitten to your location.
There is an opinion that moving a kitten to a new home is a cause of stress. Indeed, this is so, but for him the journey from the cattery to a new home is not so much essential as the experiences caused by the change in the general situation and the sudden "loneliness" for him. Do not worry, we will make sure that a few hours while traveling to your baby's home are the least uncomfortable. Kittens quite easily cope with the "difficulties" of the trip and after a few days perfectly adapt to your family.
Foldlandia Cattery can arrange the following delivery services:
Personal
Delivery of a Scottish or British kitten is carried out by car, if your city is within 1000 km from the city of Saratov. The cost of delivery includes payment of gasoline at both ends and payment of the hotel (in case of distance more than 500 km). In our experience, Scottish and British kittens perfectly tolerate a trip to a new house by car at a distance of no more than 1000 km.
Delivery by rail and bus
By agreement and, according to established practice, the delivery of a Scottish and British kitten from Saratov can be carried out by rail or bus. We use the services of intercity buses in the following directions: Saratov - Moscow, Saratov - Voronezh, Saratov - Rostov-on-Don, Saratov - Kursk, Saratov - Belgorod. Delivery by train is carried out in the cities of St. Petersburg, Krasnodar, Volgograd, Orenburg, Ufa, Kazan, Kirov, Cheboksary, Perm, Yekaterinburg, Omsk, Chelyabinsk, etc.
Delivery by Air
At the request of the buyer, it is possible to arrange the delivery of the kitten by plane using various airlines. In this case, we use the Cargo service - transportation of an animal without an accompanying person. The kitten will fly in an airplane in a special compartment for animals, which maintains a given temperature, humidity and pressure. The kitten is in a convenient carry where it has water and food. Delivery of cats using the Cargo service is paid at a special rate. The airline is responsible for the safety and quality of transportation of animals.
Delivery to the terminal in Moscow
If the buyer plans to transport the animal on their own from Moscow, we will arrange delivery to the capital's airport. In this case, we draw up the necessary package of documents and advise you on further actions.
If you yourself have chosen an organization for transporting a kitten, we will be happy to cooperate with the proposed company.
If you are not in Russia and you are interested in the international delivery of a kitten, read the information about her on the English version of our site or write to us.
Shipping Costs
All costs for the delivery of a kitten from the cattery to his new home are paid by the buyer. Price varies depending on distance and delivery method.
Standard shipping includes:
Container payment;

Payment of veterinary services, preparation of accompanying documents;

Payment of transportation costs.
We will provide and take into account all necessary at your request. To do this, we need to know the exact address and delivery time.